Responsibly Sourced, Beautifully Made
Linda Cabot Design is dedicated to creating sustainable textiles and fashion that are unique, colorful, and beautiful. Our products are ethically made by local stitchers celebrating the art of needlecraft. We believe that your home should be a healthy and happy place that is both a personal refuge and a gathering spot for loved ones. Each of our products are thoughtfully created and crafted so you can feel good about wearing them and having them in your home.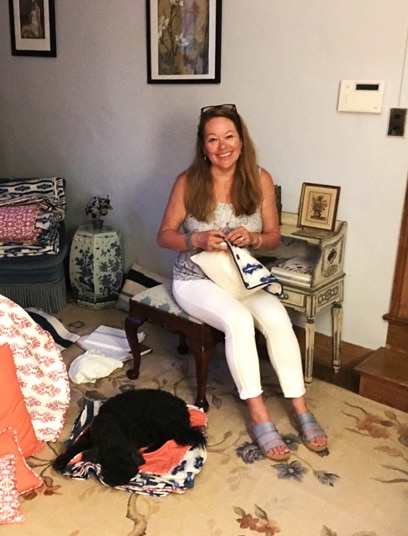 Linda was born and raised in New England and lives there still today, spending her time between an ambling farm in rural Massachusetts and the majestic island of North Haven, Maine that her family has called home for generations. The natural world has always fascinated Linda, prompting her to her paint and create designs that celebrate it. Coastlines, meadows, horizons, trees and flowers have long been subjects that inspire her, with their uplifting beauty and daily impact on her life.
Linda is also a poet and a lifelong admirer of the works of Ralph Waldo Emerson, Henry David Thoreau, Robert Frost, and Edna St. Vincent Millay, all keen observers of our earth who have elevated our connection to nature through their art.
Linda gained an early appreciation for the art, poetry, and of the handmade from her grandmother, who was a master embroiderer, knitter and needle pointer. As a child, Linda discovered that fabric and textiles not only softened and embellished rooms, but were often lovingly crafted by family members, offering a deep personal connection to the home, where women's craft was admired and embraced.
Growing up in a large extended family, home became a place where holidays, birthdays and family meals were joyfully celebrated together. Today, Linda places tremendous value on a home where interior spaces delight and welcome gatherings and family connection. The warmth and beauty of textiles enhance and often transform living spaces where meals, celebrations, and memorable conversations take place. They can also elevate the quiet interior rooms of our lives where we work, read and sleep.
With New England as her home base, Linda loves roaming the world to find new landscapes and cultures that inspire. A lifelong sailor, Linda's countless hours spent on the water motivated her to become an active ocean conservationist, thereby learning the importance of sustainable production practices. She founded the art advocacy nonprofit Bow Seat Ocean Awareness Program in 2011. What began as a documentary on issues affecting the Gulf of Maine evolved into the largest marine art advocacy program for teens in the world, with its annual Ocean Awareness Contest that challenges young people to explore human impacts on the health of our oceans through art, poetry, prose, film, and music. Linda believes that art is an effective tool of communication to help spread empathy for the earth, and carries these principles on in the sustainable practices at Linda Cabot Design.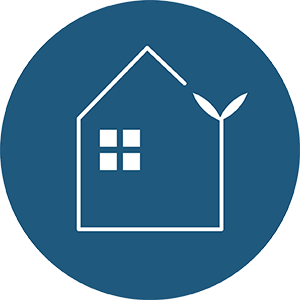 Our Sustainability Promise
With every textile we produce, we put great emphasis on the conscientious sourcing of materials that make as minimal an impact on our environment as possible. Whether that means spending the extra time and money to identify GOTS certified organic cotton for our bedding and tabletop collections and sustainable bamboo fiber for our blanket backings, or sourcing chemical-free wool from family farms to stuff our pillows, you can have confidence in the fact that environmental friendliness informs every decision we make at Linda Cabot Design. We are dedicated to consistently educating ourselves on the topic of sustainable practices and will always strive to find exciting, innovative and environmentally-friendly materials with which to work as they continue to become available.