Our Breezy Scarf, featured in four color ways above is functional, fashionable and can be worn in multiple different ways. 
---
We'd like you to meet our Breezy Scarf that, you guess it has POCKETS! It is a lightweight and airy scarf made with sustainable Tencel, a fabric known as "a gentle touch of nature."
Made from this unique fabric, the Breezy Scarf will leave you feeling cool and protected this summer thanks to Tencel's temperature-regulating qualities 🌡
As soft as silk and naturally antibacterial, our designer Breezy Scarf is the perfect accessory to grab and go out into this new uncertain world. Whether it's your trip to the grocery store, a walk on the beach or your commute on the train back to the office, feel more at ease using the pockets to open doors, grab items at the store, and even carry your phone, keys and credit card. The scarf can also be used as a lightweight face covering!
Our Breezy Scarf, featured (clockwise from top-left) in Beach Rose New Teal, Dogwood Clementine, Lace Sage, and Cheetah.
---
Our lightweight scarves are charming, chic and cute, and rest assured, these are super breathable and easy to clean. Just like all of our products, these scarves are ethically handcrafted by local artisans and are made with sustainable fabric. Feel good about your consumer choice, one that is great for you and also one that respects the environment and the artisans who made the scarf.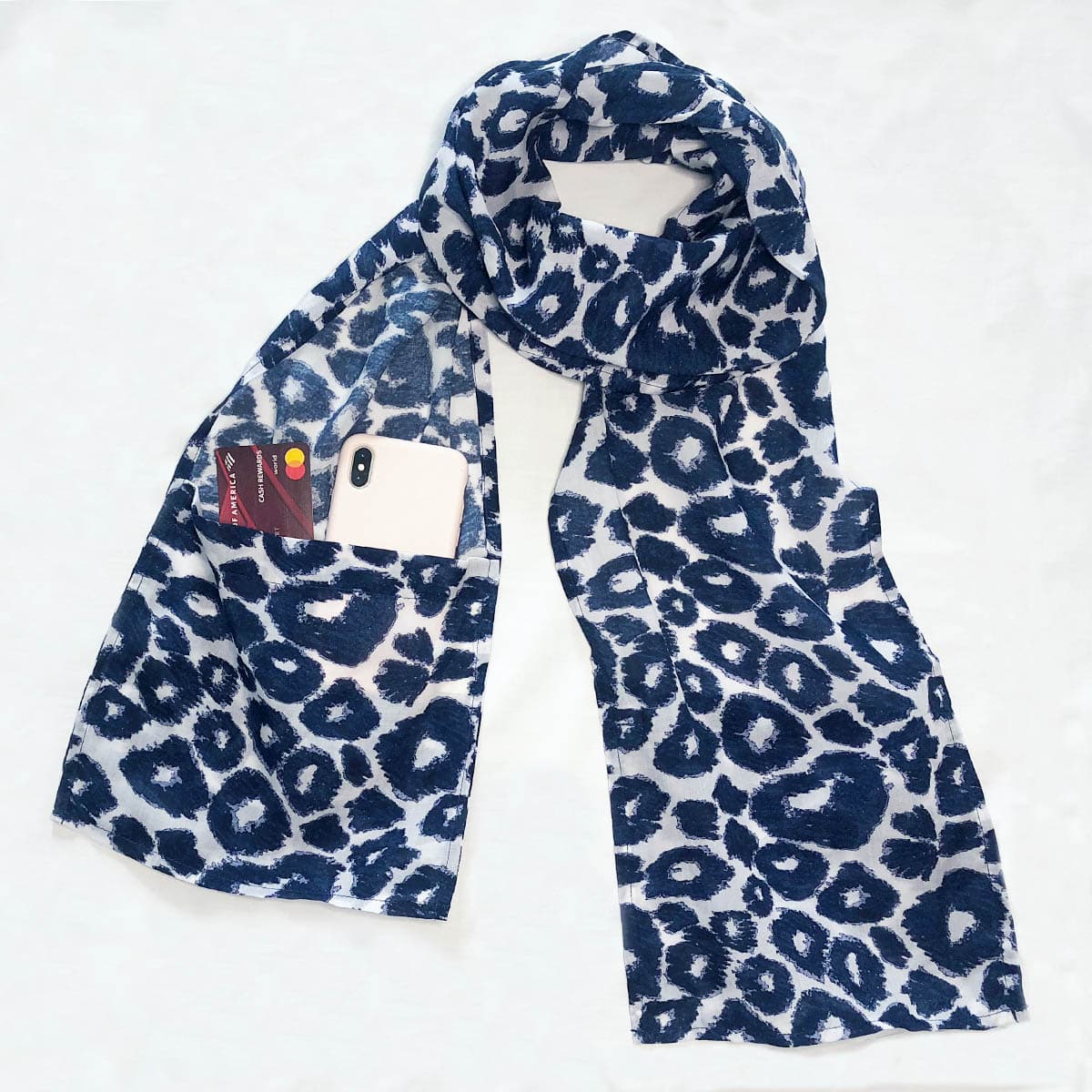 The Breezy Scarf 's pockets are perfect for small items and can fit your phone, keys, hand sanitizer and wallet. 
---
When out and about, leave your extra bag safe at home – these pockets can hold an iPhone, your car keys, credit card or wallet. The scarf is also designed to be used as a light face covering.
---
With each scarf, we include a 2 oz. bottle of  hand sanitizer made by "Goods that Matter". So proceeds from your scarf purchase will also give back to
Doctors Without Borders. 
---
The scarf, featured here in Beach Rose New Teal, can double as a face covering.
---
Don't forget about our original facemasks, available in a variety of patterns.