The air is cooler, the days are shorter, and we are well into the fall season. Our team would like to share our fall favorites! Fall is one of our favorite times of the year with the colorful foliage, warm beverages, festive meals, and more. We love enjoying the cool outdoor autumn air, while preparing our indoor spaces for a cozy winter season. Check out some of the Linda Cabot Design Team's Fall Favorites!

Dahlias
Dahlias are a beautiful fall flower in the North East. While most flowers in the garden have finished this year's blooming cycle, dahlias continue to bloom into the fall season. Linda loves these delicate fall flowers, along with hydrangeas and their autumn color transformations. Pictured above are beautiful dahlias from Linda's home garden!

Flounce Wrap Skirt
We have been loving our Flounce Wrap Skirts this fall season, especially our skirt in Dogwood Clementine. This bright orange, floral pattern makes for a great transition piece as the weather starts to cool down. Linda loves this skirt, given how stylish & versatile it is — whether you are wearing it to the office or out-and-about for weekend festivities. You'll look good and feel good in this 100% TENCEL Lyocell skirt, designed & made in New England.

Apple Crisp (GF)
Is there a more perfect fall dessert than Apple Crisp?! (Make that gluten-free apple crisp) We love this simple & sweet recipe, topped with vanilla ice cream when fresh out of the oven —  cozy and delicious! Erin loves this gluten-free recipe that she makes each fall season.

Cisco Brewers Pumple Drumkin Beer
Autumn welcomes a bounty of seasonal beers, and we think none compare to Cisco Brewers Pumple Drumkin Beer this year. Made in New England, this beer is crisp, cozy and not too sweet. This season, find Erin enjoying this pumpkin ale. Notes of toffee, caramel and gingerbread support this pumpkin ale, as it drinks as crisp as the fall weather.

Butternut Squash Risotto
Looking for your new savory fall favorite? Look no further than this butternut squash risotto recipe by Delish. Erin loves cooking this warm & healthy dish on the chilliest of days. Butternut squash can be found year-round, but is best and in-season in early fall through winter — stock up now to enjoy this awesome fall dish!

Apple Cider
Cool, fall activities call for endless apple cider. Hot apple cider at a football game, hayride, bundle up with some apple cider for an outdoor autumn stroll — cozy, seasonal & sweet. Hot or cold, Shannon lives off of apple cider in the fall; she can also be found enjoying a tasty apple cider mimosa! We love the Wegmans brand apple cider, made from a variety of apples from upstate New York.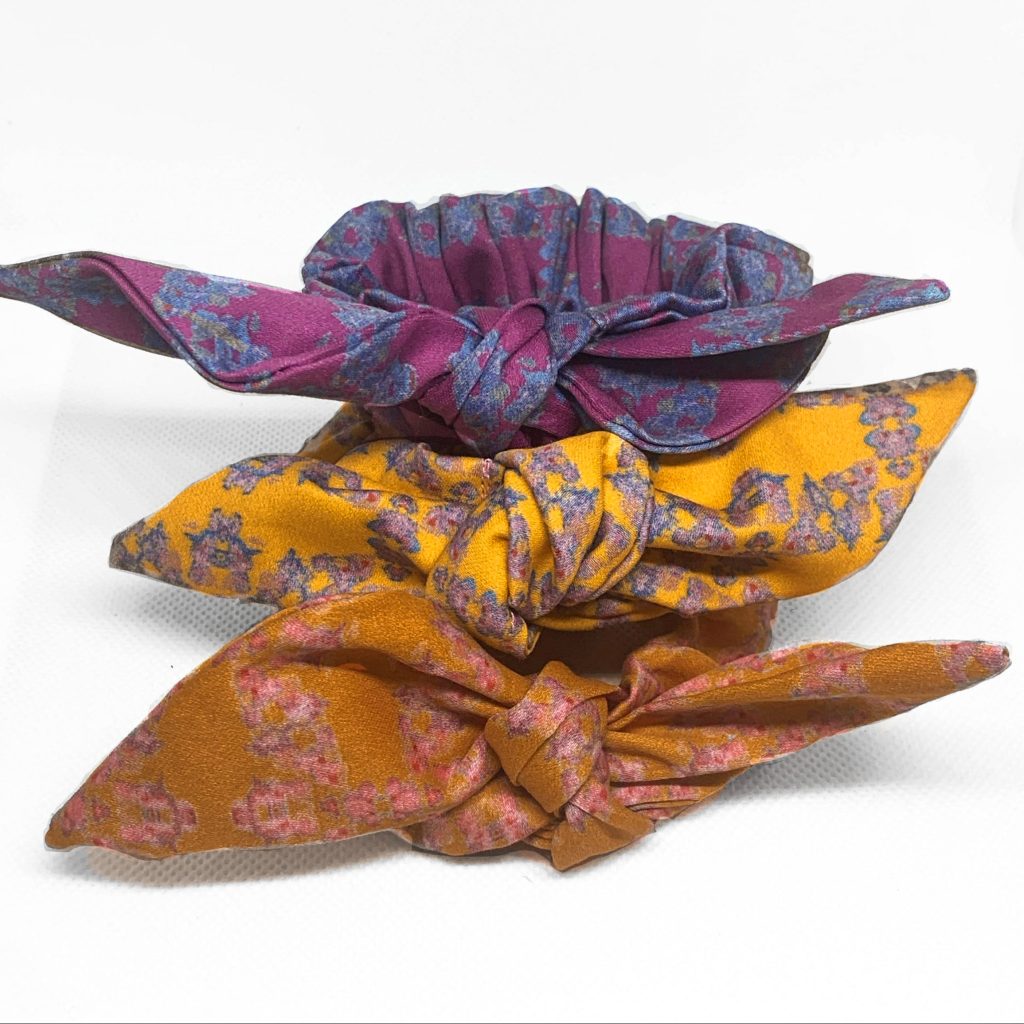 Linda Cabot Design Scrunchie with Tie
Our Linda Cabot Design Scrunchies with Ties are in style all year, but we love our autumny patterns in these cooler months. Darker greens, deep purples, burnt oranges — these colorways pair perfectly with your favorite fall sweater, jeans, and a pair of booties! (Maybe even a pair fuzzy socks) Shannon loves the Linen Lace Daisy on Moss Scrunchie with Tie this fall. Shop all Linda Cabot Design here.

Nine Perfect Strangers on Hulu
Looking for your next Nicole Kidman performance to binge?! We've got you covered. If you loved Big Little Lies or The Undoing on HBO Max, you will love Nine Perfect Strangers on Hulu. An all-star cast, a mysterious plot, and episodes that are captivatingly binge-worthy — this psychological thriller series will have you unable to press pause! Shannon loved watching this show this fall season with its perfect combination of humor & mystery.