People usually think of me as an artist and ocean advocate, not someone in love with textiles, architecture and interiors.  Actually, I have been fascinated with design my whole life and it all stems back to my favorite design influencer, my grandmother,  Ellen "Nell" Cabot.
We called her Nana and she was a tall elegant woman who became partially deaf after giving birth to my dad.  All of her grandchildren learned that there was a certain tone she could hear when you spoke to her, one not too quiet but not too loud either. You had to project your voice not raise your voice – she would or could not hear you if you shouted. Nana was an intelligent and talented woman who commanded respect with her practical and no-nonsense approach to life. She had tremendous eyesight and noticed absolutely everything, perhaps being partially deaf made her a more visual person. Nana loved the Red Sox, gardening and a glass of sherry – though most of all she loved the needle arts and spent her whole life knitting, embroidering, sewing and needlepointing. Nana would knit in dark movie theaters, on sailboats heeling over, nonstop in car rides and at home watching her beloved baseball team.  
I once thought about counting up all the items she had made – the sweaters, needlepoint pillows, chair covers and stools, the little infant booties and hats, the embroidered wall tapestries, socks and even christening and wedding dresses – I realized I would never be able to find and count them all.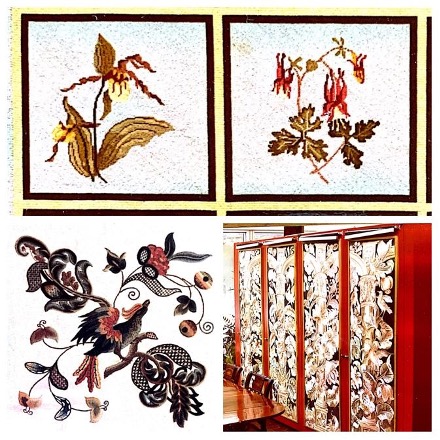 An Interior Designer at Heart
Her home in Dover was like a museum, nothing was ever out of place and each room was immaculate and beautifully arranged. Nana collected American antiques as did her father – and my grandparents' home was outfitted with Queen Ann, Chippendale and Hepplewhite American highboys, bureaus, tables, sofas, chairs and beds. The upholstery was usually monochromatic in nature – soft creams and coral damask which showed off and displayed her needlework decorations. 
My grandfather, a lawyer and judge was also a prolific furniture maker and I have a number of his pieces including a coffee table with a large needlepoint top that my grandmother designed and stitched. I was fascinated with each room in their home, how the furniture was arranged and how she accented their home with special lace linens, embroidered wall coverings and handmade textiles. There was an English sensibility throughout; with the polished mahogany and walnut furniture, acting like the strong bones of the room accented with soft creams and punctuated with my grandmother's spirited needlework.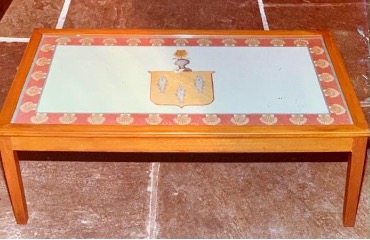 As always flower arrangements were strategically placed on tables and sideboards with seasonal flowers coming from her greenhouse and gardens. I especially loved seeing how she would pick camellia blooms and float them delicately in a shallow glass bowl as a simple yet striking centerpiece. She had a 42-year-old camellia bush and before she died in – she gave it to a neighbor who was an avid gardener – I often wonder if it is still alive today.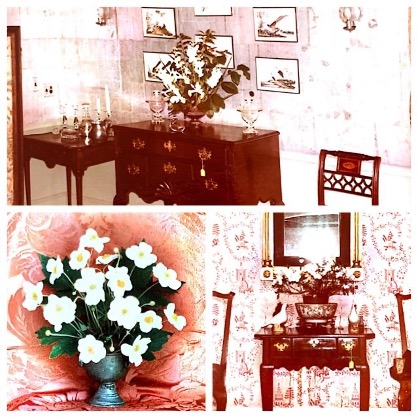 Learning the Craft
When I was about four years old Nana taught me how to handle and use scissors – how to hold them away from myself and to cut carefully. At nine years old she had me designing and creating my own tea towels which I embroidered with her silk thread. Nana taught me to needlepoint and she would examine my work with a discerning eye and turn the piece over to look at the back, saying the back should be as neat and precise as the front. I never understood why but I always made sure the back of my piece was very tidy.
I loved feeling the weight of the fabrics in my hands while I was stitching, and the physical sensation of holding these materials felt comforting and empowering knowing you were making something that was beautiful, personal and enduring for your family and friends.  Over the years I designed many needlepoint and crewel pillows, mainly of ocean scenes. I have learned that each small stitch is significant in it's own way; it is the many small things in life that can make the most meaningful impact and change.
The Heart of the Home
Through my Nana's care and love of decorating her home, she taught me the value of how special our living spaces are –  familial spaces that are nurturing, personal and exciting to be in. This is how I learned to love textiles and interior design, and came to understand the importance of dynamic and inspiring living spaces. 
Nana rarely talked about her upbringing, but once said to me that as a teenager she loved jazz and that she regretted not going to college. She told me that she would have liked to have been a doctor like her father and grandfather were. I know she would have been an excellent surgeon with her attention to fine detail and her determination. I so appreciated knowing she had amazing hands, she could have been and done many other wonderful things in life, yet her dedication to her home was where she directed all of her amazing talents.