At Linda Cabot Design, we're committed to using every last piece of our fabric to make something beautiful. Which means we know that there are plenty of ways to get crafty with excess materials! If you're looking for a fun, sustainable way to use up extra craft fabric or unwanted clothing, check out the cute scrap fabric coasters tutorial below.
The scrap coasters were thought-up by Erin Kerbert, Director of Product Design & Operations at Linda Cabot Design. Her coaster idea unraveled in an effort to discover functional ways to use up excess production material.
This effort continued with Gwynn Burns, a textile design student and former Linda Cabot Design intern. While helping to weave these new upcycled products, she channeled her passion for sustainable textiles into creating another product for our shop, scaling up Erin's coaster idea into these beautiful handwoven Upcycled Rag Rugs.
Gwynn worked on these scrap fabric projects with an eye for sustainability. "The goal of this project was to repurpose and use as much scrap material as possible and extend the life cycle of the fabric," she writes. "Instead of throwing the pieces away we came up with the idea of twining 1-2in scrap fabric pieces together…[to] save the fabric from being put in a landfill."
Once Gwynn's Rag Rug prototype was complete, the design was reproduced in a small batch by Talia, a local stitcher who has also made many of our Scrunchies and Tencel Scrunchie Kerchiefs. These products were all designed and produced to use every bit of leftover material to avoid contributing to the annual 14 million tons (and growing) of textile waste that ends up in landfills.
Read on to find out how you can make your own sustainable scrap fabric coaster!
You will need: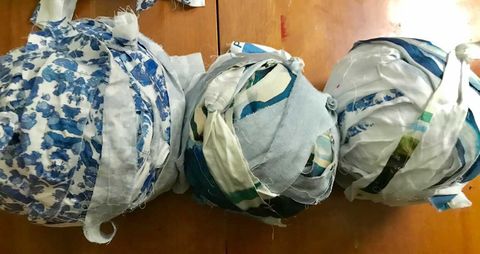 Scrap fabric pieces, cut into 1-2″ wide strips – about 280″ in total spool length
A spool of yarn or string
A wooden hand loom OR
A cardboard panel, about 9"x 6" (for making a recycled loom)
How to Make a Scrap Fabric Coaster:
1. If not already spooled, start by cutting 1-2" wide strips of your scrap fabric.
2. Twist those strips of fabric into a sturdy twine – this video tutorial is perfect for showing the method! Keep twisting your fabric strips until you have two strips of twine, each about 70″ in length.
3. Tie your yarn or string across the length of your hand loom to create a "warp."
4. If you don't have a wooden hand loom, you can always make a recycled cardboard loom:
Make cuts along top and bottom of your cardboard swatch, about 1cm apart.
Tie your "warp" strings vertically through those slats – we found this video to be a helpful visual guide.
5. Use your twisted scrap twine material to make a "weft." Weave your twine horizontally along your loom, alternating over and under the yarn "warp."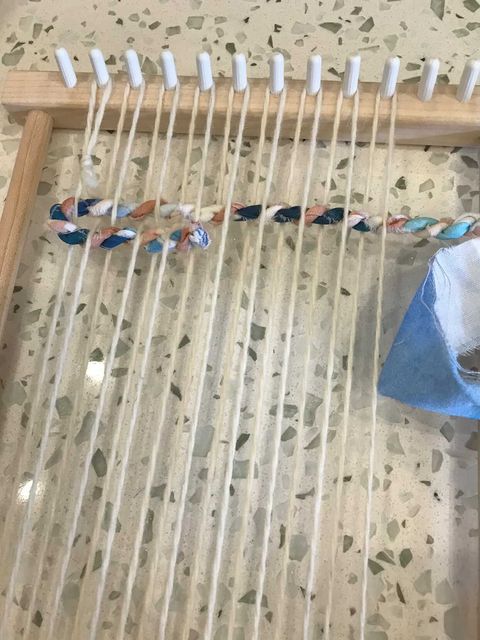 6. Keep weaving your twine pieces over and under into a square pattern. As you build up the series of "weft" rows, comb down each row to make sure the woven structure is compact.
7. Once the warp and weft are the desired size (we find that 4"x4" coaster size works best), remove the weaving & clip the ends of your warp strings, leaving at least 2" of string hanging from both sides of your pattern.
8. Tie together the loose ends of the warp strings.
9. Trim any excess length of the warp strings and your coasters are complete!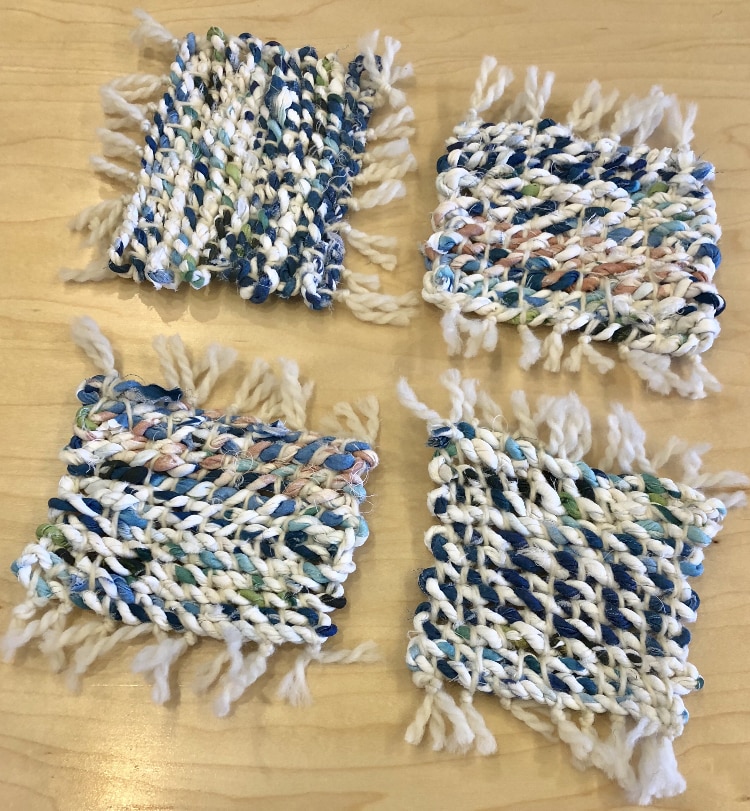 The average American throws away nearly 70 pounds of clothing or other textiles annually, which is why taking small steps towards living sustainably is so important. We thought we'd share this fun, eco-friendly tutorial as a way to keep excess material out of landfills and share basic techniques of upcycling & weaving. Special thanks to Gwynn for her reflections on sustainable artmaking, and for making use of our product fabric remnants! You can shop our Upcycled Rag Rug here. Happy upcycling!