At first glance it seems like a simple task – finding a pillow insert that is both environmentally friendly, beautiful and functional. But we found the pillow insert quest to be surprisingly filled with minefields. Let's take a look at the options the Linda Cabot Design team evaluated.
Synthetic Pillows
Synthetic or polyester pillow inserts are ubiquitous, particularly in lower-priced mass produced pillows. Find an amazing deal on a pillow at your favorite big box or discount store—the pillow is likely to be stuffed with a synthetic filler. Synthetic fill does have its plusses. The material is cheap, light-weight and tends to be hypo-allergenic. The downside? Synthetic fill tends to clump over time leaving a tell-tale look of a cheap lumpy insert.
Even worse the environmental impact of polyester is dramatic. Polyester is a category of polymers produced by mixing ethylene glycol (a petroleum derivative) and terephthalic acid. This process requires substantial energy and water. Not surprising this chemical concoction from a non-renewable resource isn't biodegradable so your pillow could take up to 200 years to decompose and it can leak plastic microfibers into our waterways and oceans, Yikes!
Needless to say we took a hard pass on this option and turned to more natural materials.
Down and Feather Filled Pillows
Down has long been synonymous with luxury home goods. A down comforter or pillow was once considered the ultimate standard in luxury. This outlook has been slowly changing as consumers become more aware of the ethical impact of using down and feathers in both fashion and home goods. Sadly, down is mostly live plucked from animals often causing bleeding, distress and injury to the animal. In the case of breeding fowl they can be plucked multiple times during their confined lives. Often down is plucked from ducks that have been raised for Foie Gras which are force feed to produce extra fatty livers.
Recent media reports have lead companies who are large buyers of down like North Face and Patagonia to insure that their down is ethically sourced meaning it only comes from animals that have been raised humanely for meat and not plucked while they are alive. This is amazing progress and we do see the home goods business becoming increasingly aware of the ethical problems of some down. These ethically sourced down pillows are a big step ahead of their polyester counterparts, but they still require the killing of animals to stuff those pillows. If you really want to go with down try sourcing from an recycled supplier like Re- Down https://www.re-down.com
Just remember from a functional standpoint a down pillow loses its loft over time and require constant fluffing and shaking to maintain their shape. Who wants to be constantly fussing with your pillows or having to replace them after a few years?
Kapok Pillow Inserts
Our quest for the perfect environmentally friendly pillow brought us to research Kapok. Kapok checked many of the boxes since it is harvested from the seedpods of the Kapok tree with little environmental impact. However, this material is often sourced from Indonesia so you have to consider the environmental impact of shipping the material half-way across the world to deliver it here to the US.
Perhaps we could have lived with that compromise, however, the kapok pillows presented a functional problem we couldn't ignore. The pillows were extremely heavy and dense. Use these in a pillow fight and there could be injuries!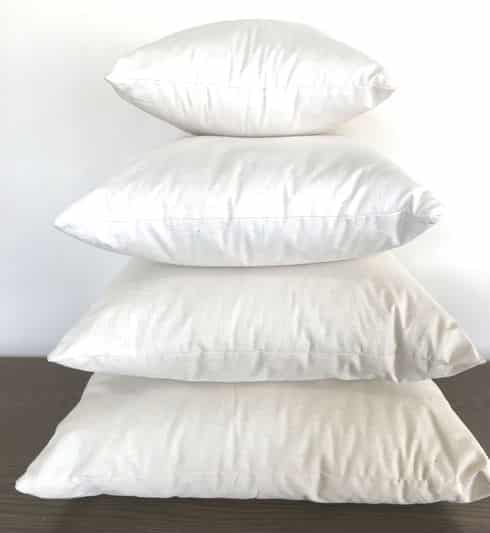 Finally we come to our favored pillow insert. 100% organic wool. Proving that sometimes you have to go back to basics to find the most usable eco-friendly option.
Wool has many benefits including the fact that it is naturally mold-resistant and dust mites don't like it! It is also a renewable resource—sheep keep growing those beautiful wooly coats season after season. And of course wool is naturally biodegradable.
What surprised us most in our search for the perfect pillow insert is how wonderful wool pillows feel. Unlike down and polyester inserts they hold their shape over time and don't loose their loft.
Our wool pillow inserts are sourced from a family farm in upstate New York that is dedicated to producing environmental and animal friendly wool products. The owner works with local farmers to produce the absolute best wool product and always have sustainability and ethical practices in mind. The pillows themselves are crafted locally at Herkimer Industries which provides work opportunities for people with developmental disabilities. A look at this wonderful video and you can see why we were sold with this pillow option.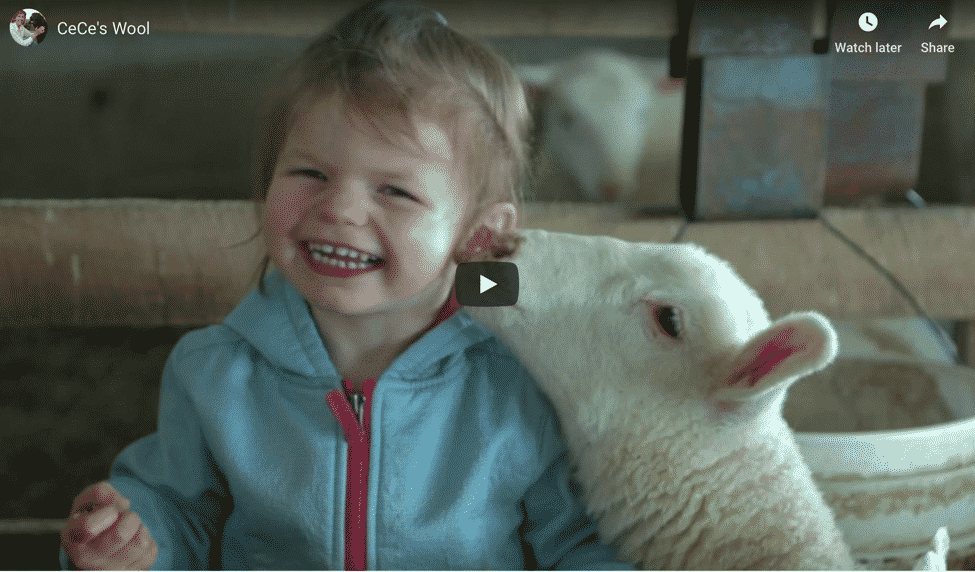 Any of Linda Cabot Design's decorative pillow covers can be purchased with beautiful wool inserts. Email us at hello@lindacabotdesign.com for questions and inquiries.