We are so excited about our brand new sustainable midi skirt, the Flounce Wrap Skirt! These skirts were designed by our very own in-house designer, Erin Kerbert, using six of Linda's unique textile patterns. Midi-skirts are all the rage, and our fashion forecast prediction is that they are here to stay! Timeless, sustainable and ethically made; say hello to your new wardrobe staple. And the best part is – these skirts were ethically stitched right here in New England and made of 100% TENCEL™ Lyocell fabric.
TENCEL™ Lyocell is an awesome light-weight fabric made from trees. It's a super non-toxic and compostable fiber that comes from renewable raw wood material; the fabric is created in a closed-loop production process, with very low environmental impact. The textile becomes the perfect trifecta: super gentle on your skin, anti-bacterial, and has heightened breathability compared to other synthetic textiles. And because Tencel™ is biodegradable and 100% botanic in nature, the garment can give back to the earth at the end of its lifecycle!
Designed by Erin Kerbert, our Director of Product Design & Operations, the Flounce Wrap Skirt, is the first garment to introduce the 'et cetera' by Erin fashion collection at Linda Cabot Design. The idea behind the skirt's graceful design is to create a timeless & sustainable garment that can be worn anywhere: the beach, a luncheon, wedding, cocktail party, office, store, et cetera.
Erin talks more about the new Flounce Wrap Skirts and her design process below.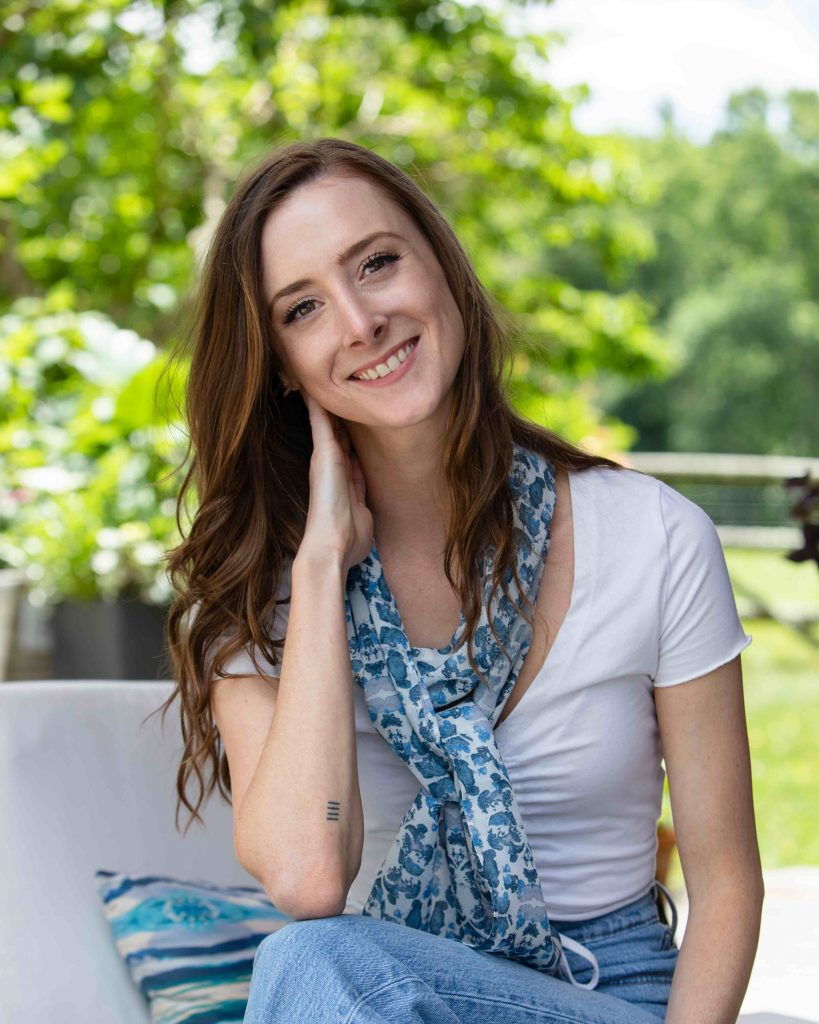 How did you first come up with your skirt design?
I've always been interested in fashion design, and when Linda shared with me some of her textile design swatches on TENCEL™ Lyocell fabric, I knew the fabric would be perfect as an adjustable wrap skirt! We first debuted the fabric in a variety of scarf designs – the fabric-drape was too beautiful to resist using to make into a midi-skirt with flounce ruffle! 
 I began sketching my envisioned skirt design in summer of 2020.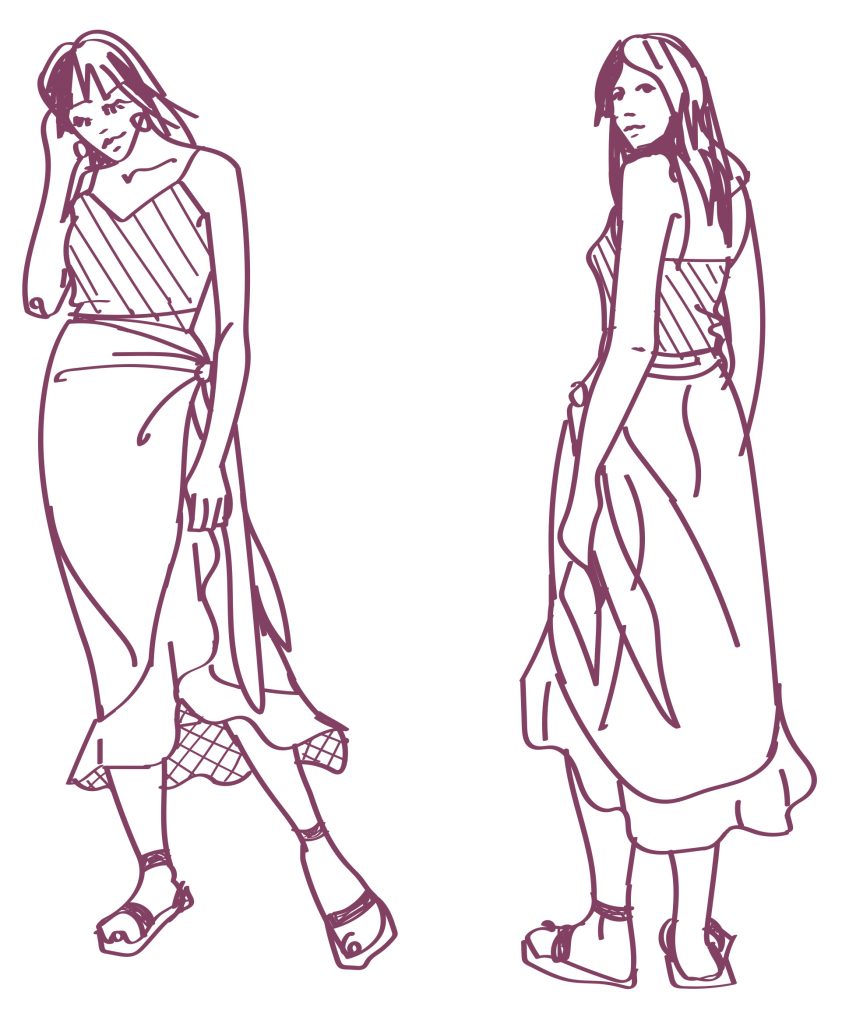 Tell us about your creative process in designing these skirts.
I made the first prototype out of organic cotton muslin, a necessary step to ensure the design functions properly; we held a fitting & noted any required design edits.
Next, I created garment pattern pieces for the skirt design, so that it could be translated for sizing and replicated over & over again. 
Next step was to create material-prototypes in both skirt sizes to see and finalize the flounce wrap skirt design in the TENCEL™ Lyocell fabric. Another fitting, and design approval!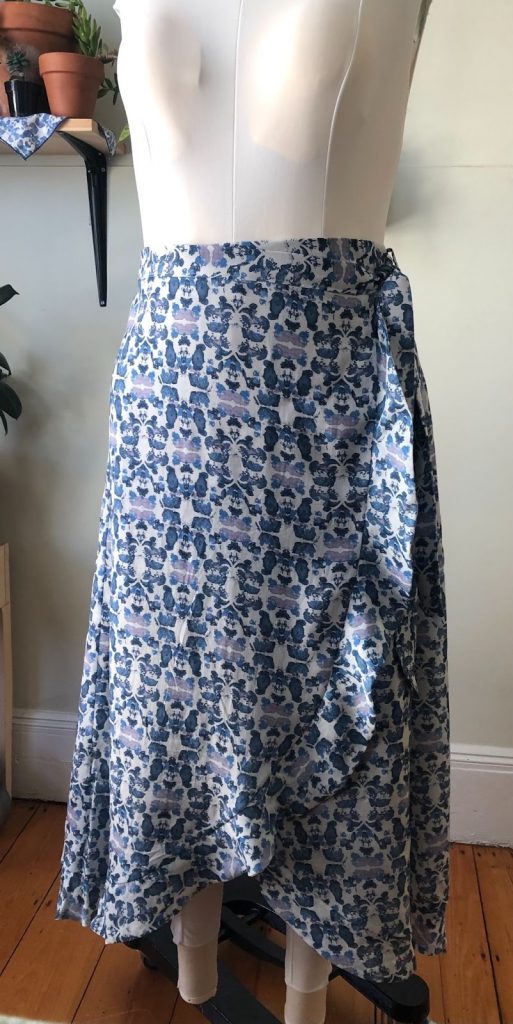 Creating the tech-pack was next; an essential document that helps to clearly communicate the garment's construction details with our production team for manufacturing.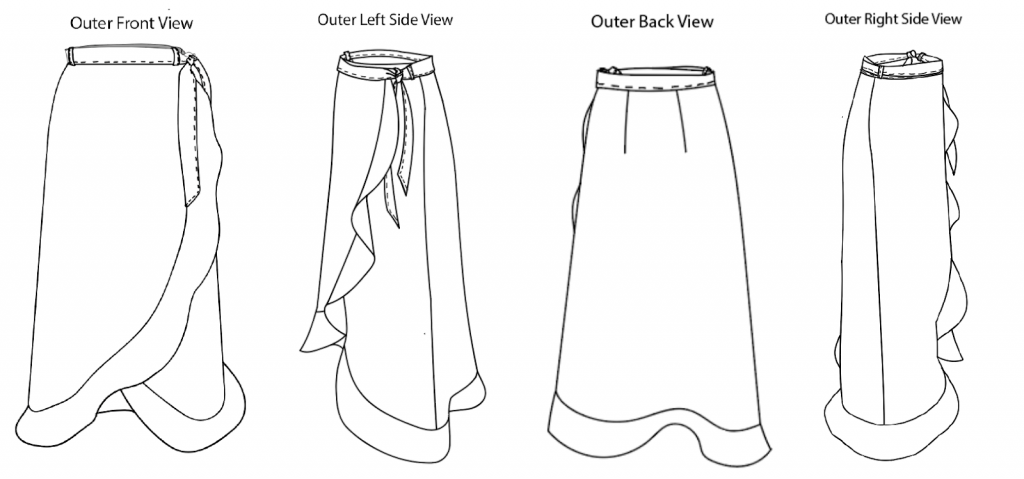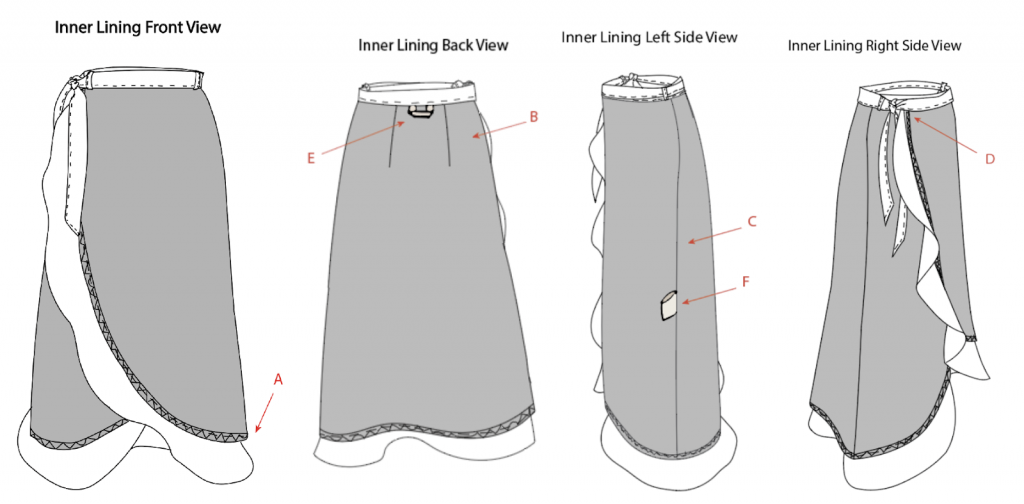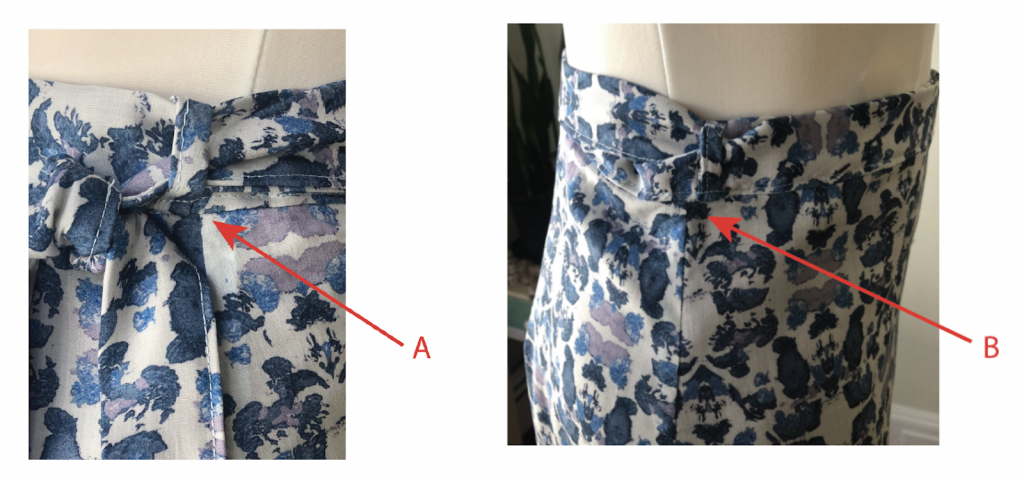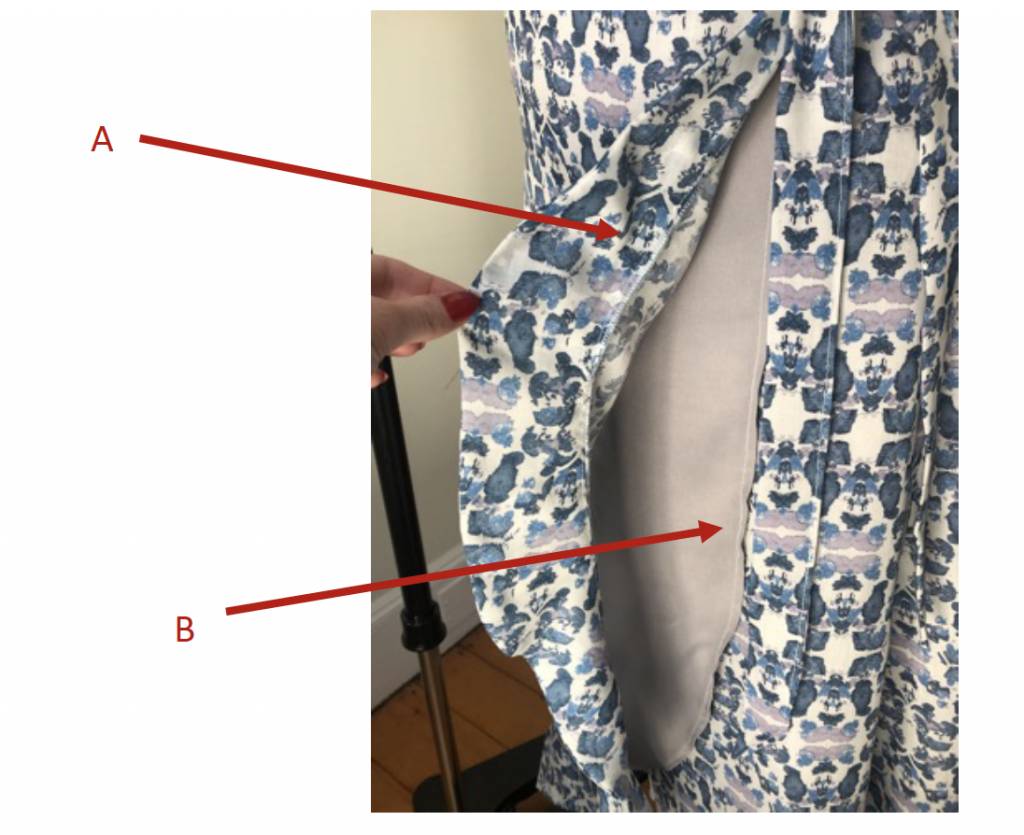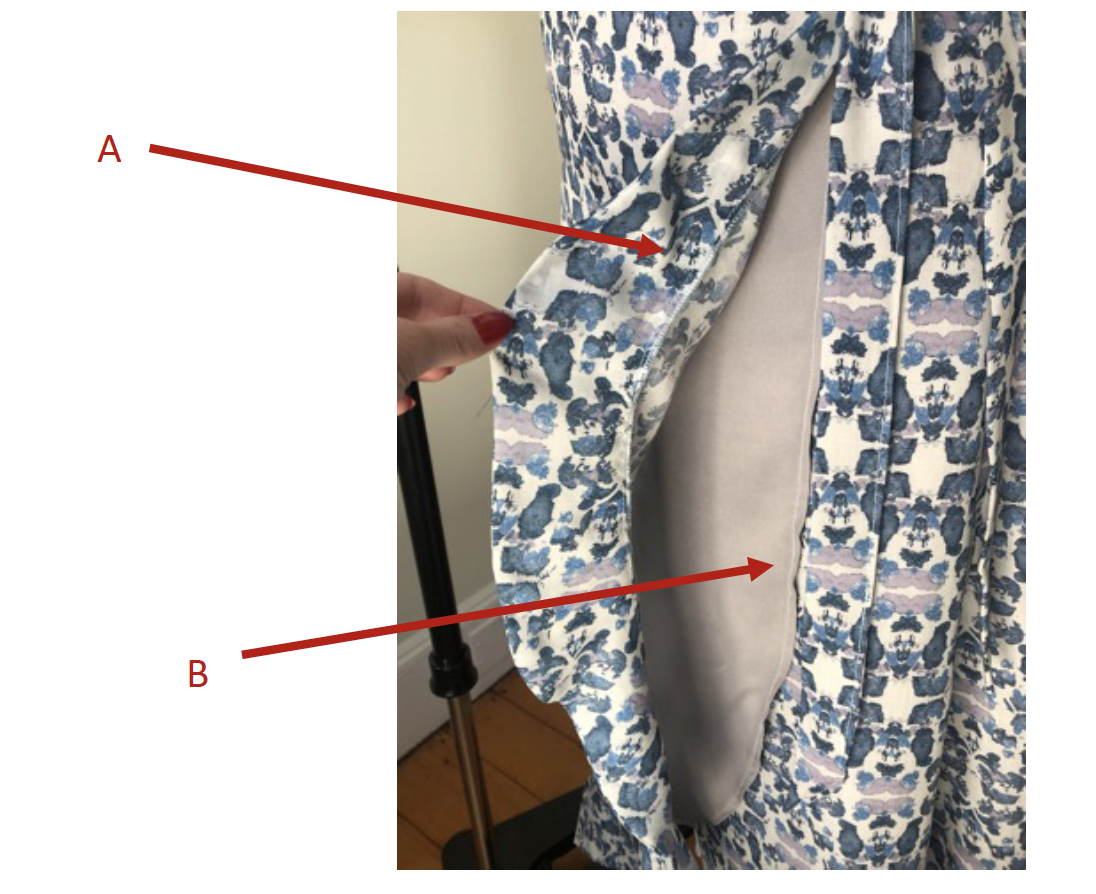 Next step was to design sew-in garment tags & assess each fabric colorway, to choose the coordinating lining fabric & thread colors.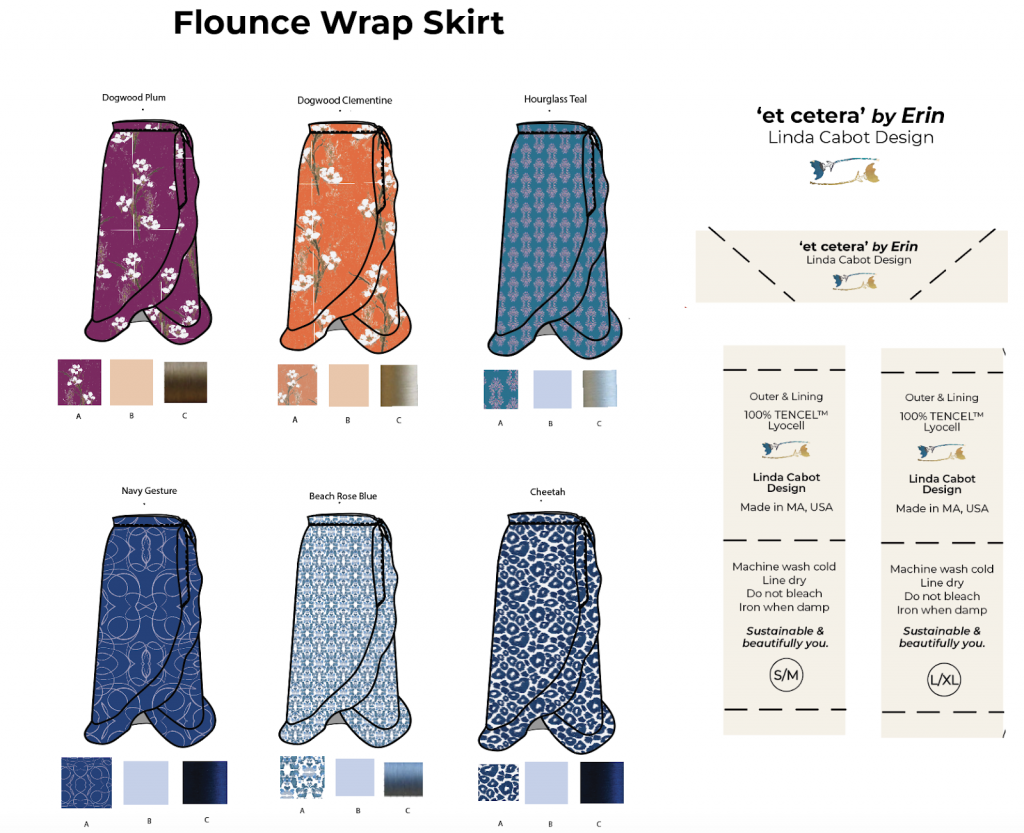 Off to the manufacturer for garment-sample making, then production! My Flounce Wrap Skirt material-prototype, garment patterns, tech-pack, fabric, tags, and thread were delivered to our local production team, United Sewing & Design, assigned to take on the first batch of limited-run Flounce Wrap Skirt production.
How did you incorporate sustainability into the product design?
I used organic cotton muslin for prototyping, biodegradable TENCEL™ Lyocell as garment material content, organic cotton thread, and recycled paper for the design process. During production we make sure to keep the fabric remnants after production. We then use the fabric scraps to be transformed into smaller products, such as Tencel Hair Kerchief Scrunchies, Square Scarves, Small Sarongs, and more. We donate the much smaller leftover fabric pieces to local organizations to stuff pet beds with, or to be recycled.
What was it like using TENCEL™ Lyocell for your design? 
TENCEL™ Lyocell feels much like a lightweight silk fabric. Its soft and smooth characteristics allow the fabric to easily slip while sewing; I found that carefully working with this fabric is so essential to produce beautiful seams. 
This fabric has so many consumer and eco-friendly benefits! Knowing the fabric used for my design was created sustainably & that the garment will give back to the environment in a non-toxic way at the end of its life cycle is so special.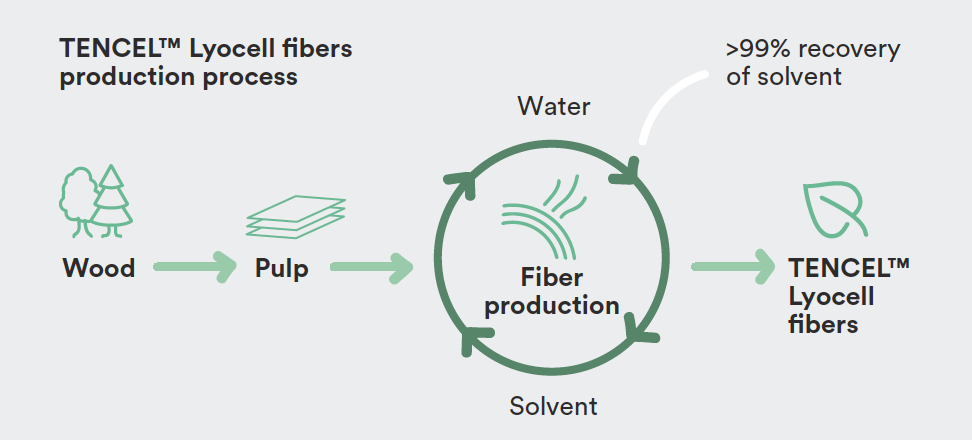 When I wear a Tencel™ garment, I truly feel beautiful in it! The material is so soft to the touch, breathable, and drapes across the body effortlessly, unlike any synthetic fiber I've ever worked with!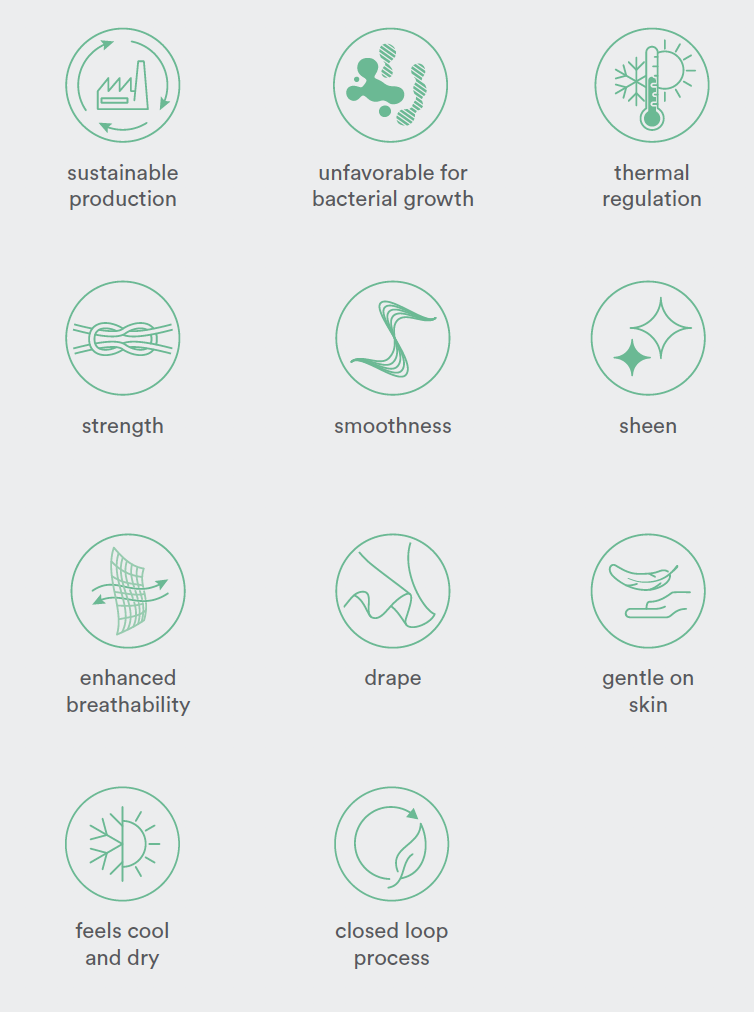 What future plans do you have in store for 'et cetera' by Erin?
More apparel coming soon! (stay tuned!) 😉
Which pattern is your favorite?
The pattern that initially grabbed my attention was Dogwood Plum, but I find that my favorite colorway shifts daily. It's funny how we perceive color – afterall, different things are different colors because their surfaces absorb and reflect wavelengths in the visible light spectrum differently! Context plays a huge role as well.  🤓
Take a look at our 6 BEAUTIFUL new skirts!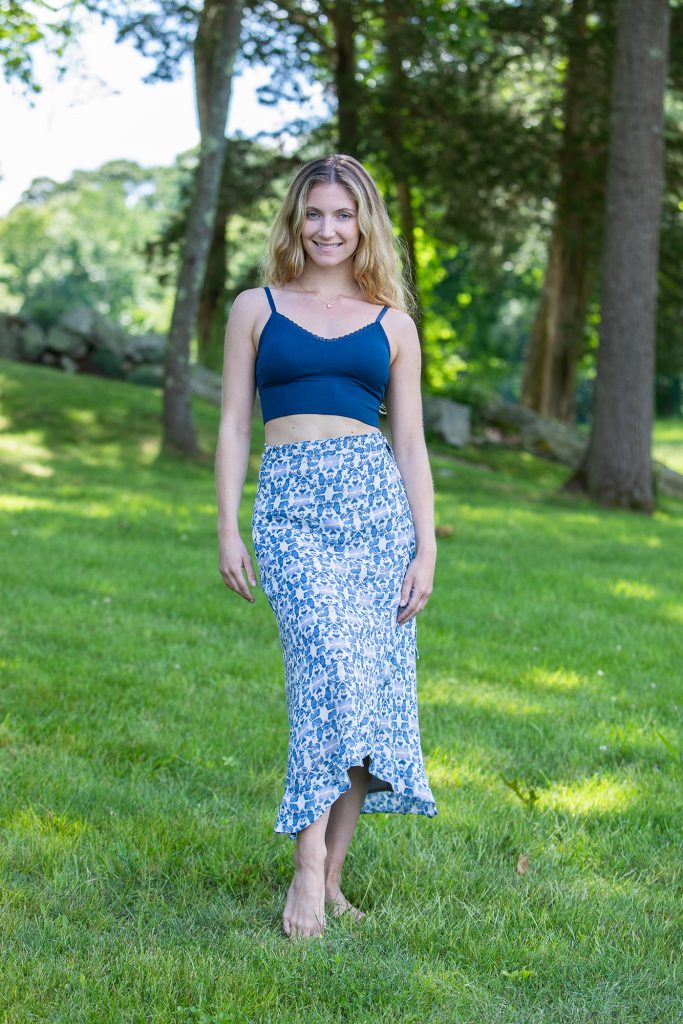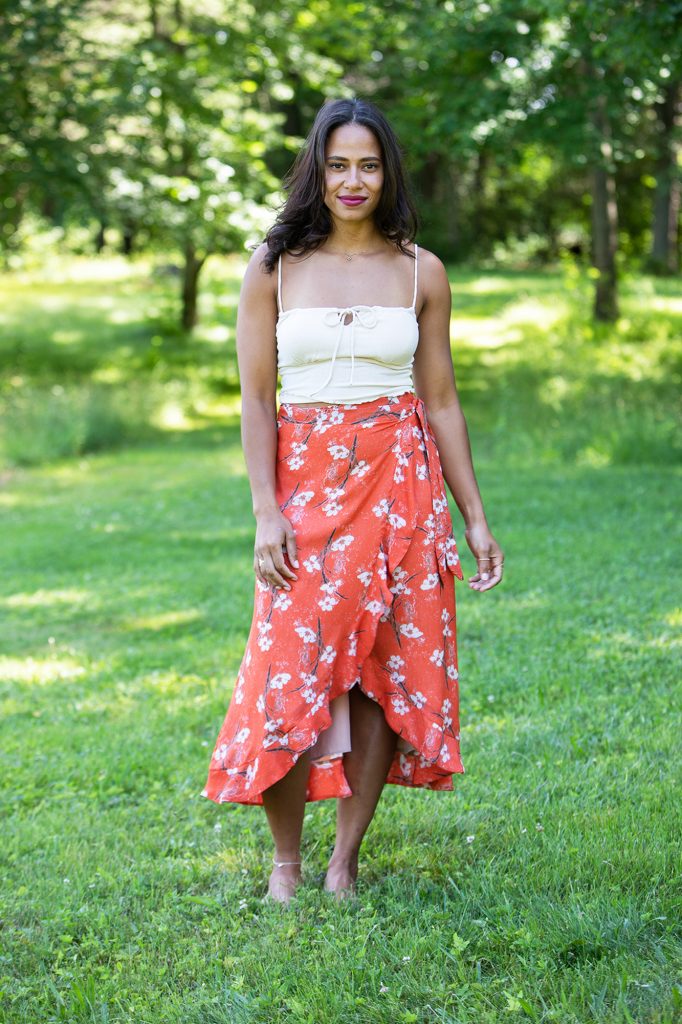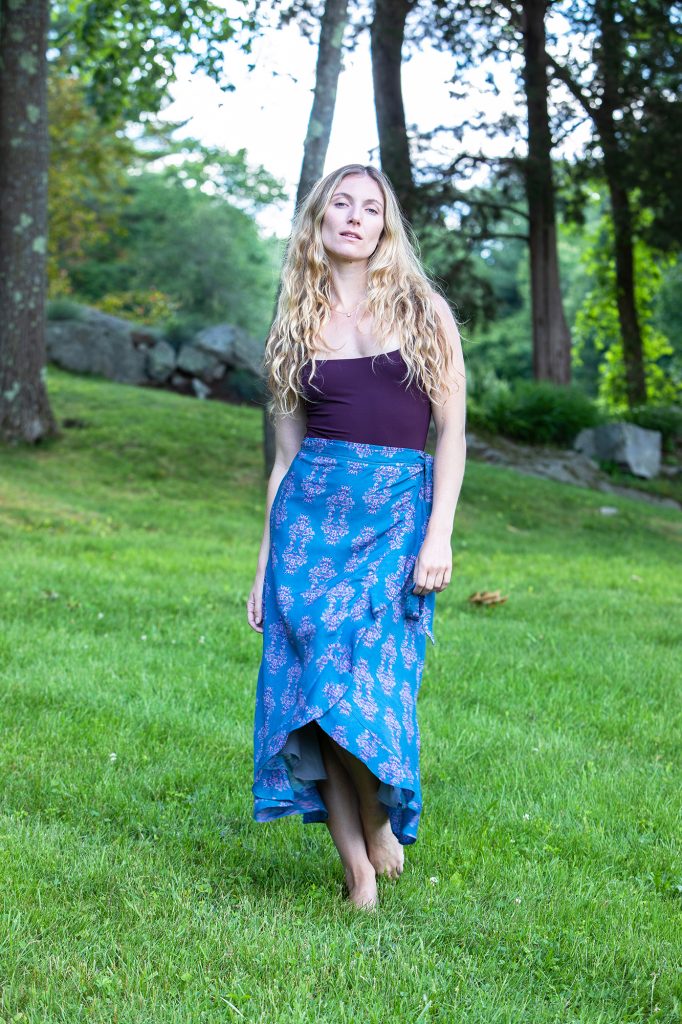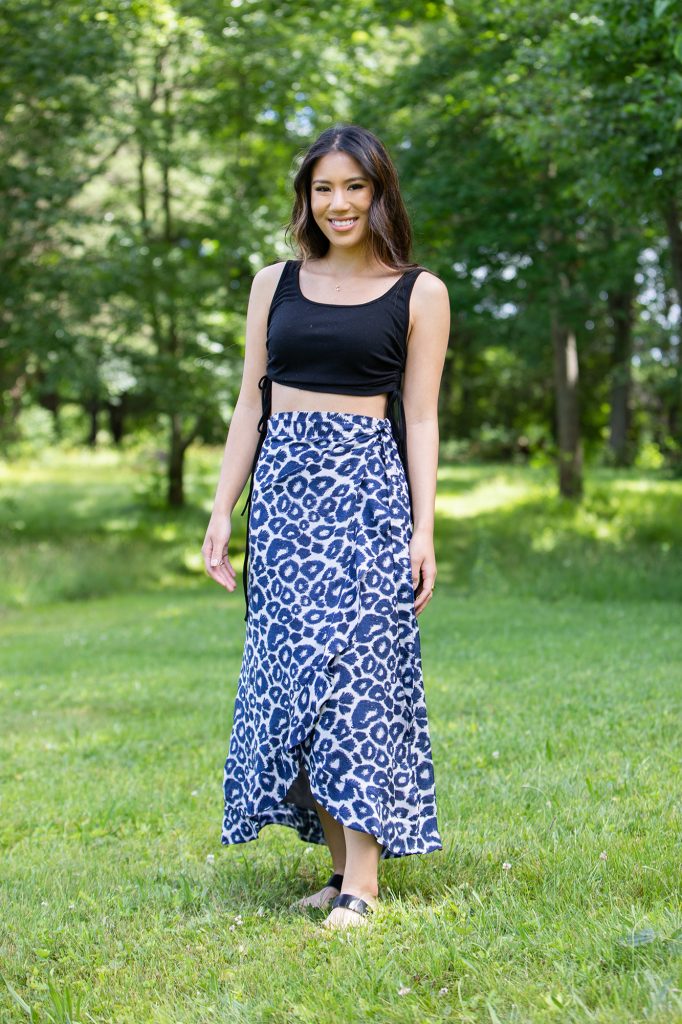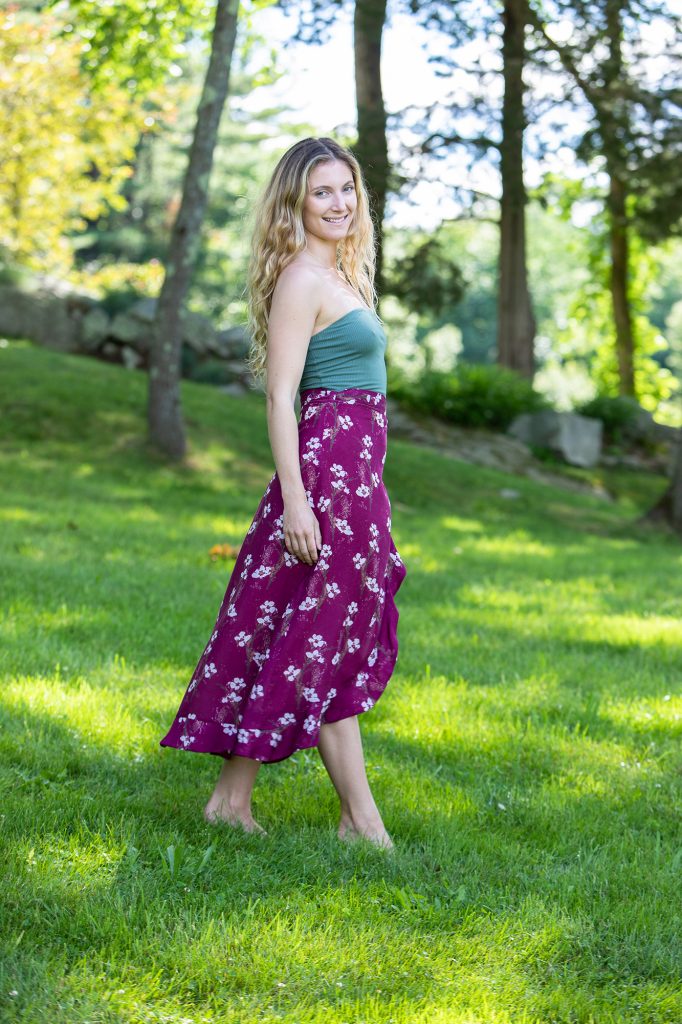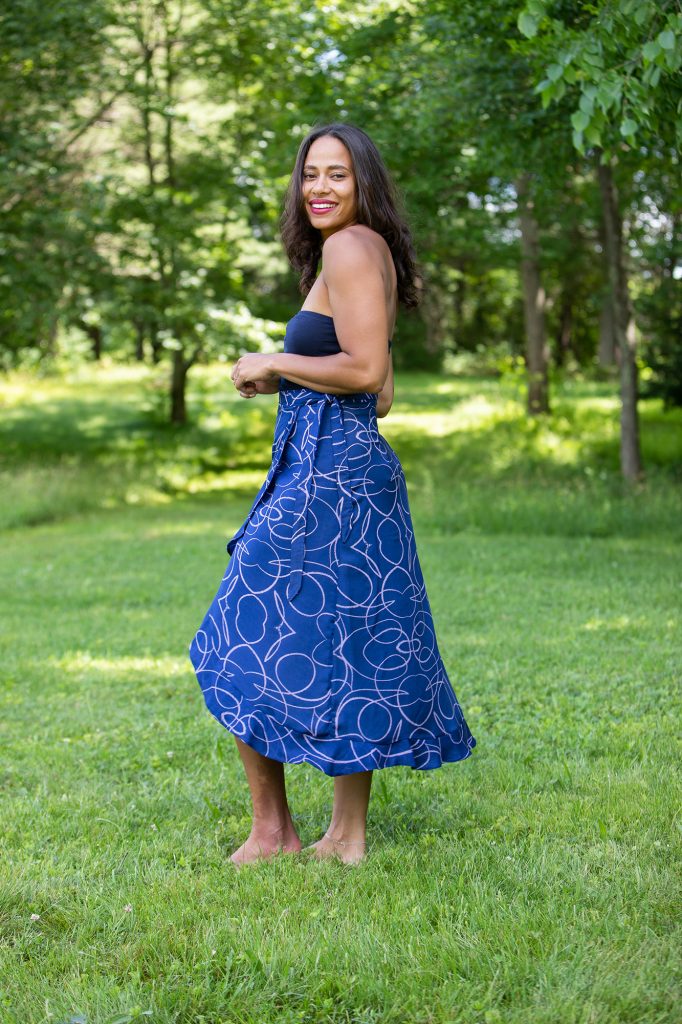 Shop all here.